Other Sample


Sample Top
- Vol 1 -
- Vol 2 -
- Vol 3 -
- Vol 4 -
- Vol 5 -
- Vol 6 -
- Vol 7 -
- Vol 8 -
- Vol 9 -
- Vol 10 -
Small Crane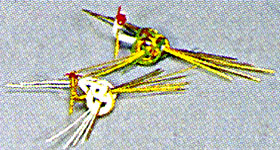 1. Wing: Use 5 Mizuhiki of approx. 30cm and make Awaji Musubi.Arrange it for wings.
2. Neck and Tail: Use 7 Mizuhiki of 11.8inch and arrange it for tail. The length of the tail should be approx. 3.2inch.
Use one white Mizuhiki and put it around 2. Arrange it for a neck. The length should be approx. 2.3 - 2.8inch. Leave the rest for a Beak.