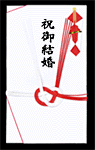 Wedding Ceremony (Money gift: Go-shu-gi)
Average amount: 10,000 to 100,000 yen
Nature: Congratulation
No-shi-bukuro: Kotobuki, Go-ke-kkon-o-iwai, O-iwai
MizuhikiColor: Red & white, or gold & silver
MizuhikiStyle: Musubi-kiri, Awaji-musubi

When you are invited to the wedding ceremony you should bring "Go-shu-gi" on the day and hand it to the person at the reception. If you are a family, relative of the couple you should sent a gift either before of after the ceremony, not on the very day. The appropriate amount of "Go-shu-gi" may vary according to the area, your age, your social status and the relationship between you and the couple.The money has to be new bills.